Riverwalk Plaza Christmas Tree Lighting - Thursday, November 30th, 2017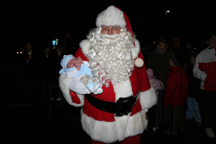 The Riverwalk Plaza Christmas tree Lighting marks the kickoff of the Christmas Shopping Season. It is an integral part of the Community wide kickoff to the Holiday Shopping Season. This event started very small the first year, attracting less than a dozen children. Like the other events at Riverwalk, it has grown steadily. It is held every year on the Thursday immediately following Thanksgiving at 6:30 PM.
The Event includes a special visit from Santa Clause himself, who lead the kids in a countdown to signal the switching on of the Plaza Christmas Tree Lights. He spends approximately 30 minutes mingling with the kids and their parents, posing for pictures, and handing out treats before he leaves for the tree lighting ceremony downtown.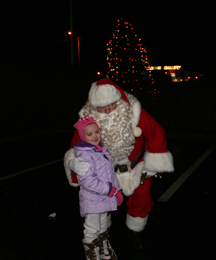 Families are urged to stick around the Plaza and take advantage of the shopping and great dining opportunities. And by waiting at the Plaza, they find themselves in the best location in town for viewing a spectacular display of Fireworks held at 8:15 PM by the Wellsville Area Chamber of Commerce.
It is just another example of how Riverwalk Plaza is not just a shopping destination. We strive to be a focal point of family oriented events for the whole community! Great activities, great scenery, great dining, and great shopping!