Welcome to Riverwalk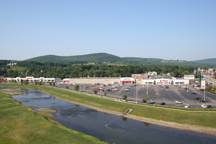 The largest shopping center in Allegany County, situated on 35 acres of prime commercial real estate on the banks of the Genesee River in Wellsville, New York, the shopping mecca of Allegany County. At the intersection of Route 417 and Route 19, the busiest intersection in the county. Totaling daily traffic counts on state highways and the local streets adjacent to the plaza, there are 25,000 cars per day that travel within normal visual range of the plaza. Riverwalk Plaza boasts the highest visibility, maximum exposure and landmark recognition.
Traffic control devices and merge lanes into the main entrance and exit of Riverwalk ease transition into the 850 unit strategically designed parking stalls. Marked traffic directionals provide safe uninterrupted traffic flow throughout the plaza. All deliveries have a designated rear entrance to loading docks and bays.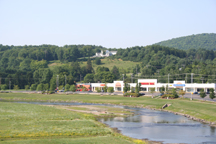 Riverwalk consists of three buildings. Riverwalks largest building is 341x239 and currently occupied by Kmart (logo), the only department store in Allegany County. Riverwalks second largest building is 207x208 and currently occupied by Tops (logo), a grocery store. Riverwalks third building is 350x80 and currently occupied by Sherwin Williams, Subway, Visiting Nurses Association, America's Mattress, Citi Salon and the YMCA.
The Riverwalk Tenants Association was developed by Riverwalk Property Management Company to create a relaxed forum where Riverwalk tenants can discuss questions, concerns, review scheduled events sponsored by Riverwalk Property Management or just to catch up with their co-tenants.
Riverwalk Plaza is currently host to many events throughout the year sponsored by Riverwalk Property Management. Some of the events include the Motor Sports Expo, RV Outdoor Show, Cruise Nights in June, July and August. Other events include Halloween Family Fun Night with organized trick or treating and a costume contest. There is also a Christmas Tree Lighting with a live remote from a local radio station, includes a visit with Santa and Fireworks. Christmas Family Fun Night is another event in which there is a live remote with the local radio station and it offers hayrides with Mr. And Mrs. Clause and a select ensemble from the local high school music program. The events list continues to grow. All stores in the plaza participate in these events.
These Riverwalk Property Management scheduled events have documented increase in sales from the tenants.
Riverwalk Property Management Company employs a full time property maintenance and grounds keeping staff. Riveralk Property Management takes pride in the condition and appearance of Riverwalk Plaza. Preventative maintenance schedules are adhered to, corrective maintenance and emergency services command our immediate attention. We are always here for you with 24/7 emergency contact numbers. Riverwalk Property Management cares about our clients, our plaza, our community, and your customers.