Riverwalk 19th Annual Motorsports Expo
Saturday, April 14th, 2018 10:00 am to 2:00 pm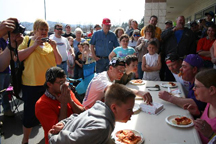 The Motorsports Expo at Riverwalk Plaza in Wellsville began in 1998 as a Stock Car Show. An event that was intended for area racing fans to get an up close look at their favorite local race cars prior to the start of the new racing season. It has evolved into an event for enthusiasts for all types of motor sports competition. Although fans see a large number of stock cars from all different classes, there are also dragsters and go-carts. Racing fans in the past were even treated to a classic race car. A 1954 Hudson Hornet that still sees occasional Pace Car duties at Mckean County Raceway in Smethport, PA.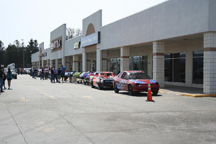 In addition to the great motor sports vehicles for the fans to check out, there are several other fun activities scheduled. Subway holds their annual sub eating contest. Motor sport vehicle drivers and/or their fans with BIG appetites volunteered for the contest. This is always a fun event to watch as the hungry competitors struggled to see who can eat a six inch long meatball sub without using their hands in the shortest period of time.


Mother Nature has smiled on this event in the past which has brought out a record turnout of cars and attendees. Everyone has a great time!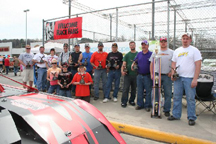 The simplified version for the Pit Crew Competition was used again this year so that more people could experience the fun and excitement. Rather than a tire changing event which required two person teams in the past, we altered the competition to an individual competition. Each person had to run from a marked position to the car, raise the driver's safety net and re-attach it, pull the dip stick and check the oil, replace the dip stick, run around the car and touch (check) each tire, and return to the starting point. We had two categories, one for kids and one for adults. They raced against a stop watch to see who was the fastest. The crowd even got promoters Rod Biehler and Roger Morris to compete against each other for title of best "promoter pit crew". This competition turned out to be very popular with the crews and spectators alike!
The event culminated with the awards ceremony. Trophies were awarded for the best appearing in each class, for the sub eating contest, the pit crew contest, and the coveted Riverwalk Best of Show trophy.