Riverwalk 13th Annual New and Used Car Show - POSTPONED til further notice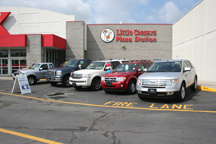 The New and Used Car Show has become a kickoff event to the summer closeout selling event for the area car dealers. This event began in 2001 with just a couple of car dealerships and a handful of cars and has grown into one of the largest summer events in the area. Several new and used car dealers from the Wellsville and Olean areas display new and used cars and trucks of all types and price ranges.
Past shows have included GM, Ford, Chrysler product and Kia lines in new and used vehicles product lines. There are many great deals to be made with many models marked down thousands of dollars. If you are in the market for a new or used vehicle, Riverwalk is the place to be June 15th, 2013! People could save on gasoline and check out all the brands at one location. Remember this event! You will find what you need at the Riverwalk Plaza New and Used Car Show!