Sherwin-Williams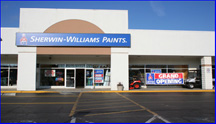 Riverwalk Plaza features a 3,560 square foot Sherwin-Williams paint store. This is the only store in Riverwalk Plaza that is exclusively for paint, wall coverings, and related accessories. It features a full line of Paints, Stains, Wall Coverings and accessories, as well as the tools and equipment to apply them. Sherwin-Williams carries everything for your decorating needs.
The stores staff pride themselves in their personal service to their customers. The staff is always ready to assist the customers with finding just the right materials for the job. They will even come out to your location to help you estimate the cost.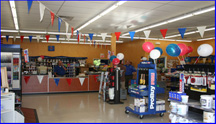 Sherwin-Williams is located at 125 Bolivar Road in the Riverwalk Plaza in Wellsville, NY. The store can be reached by phone at (585)593-4340.



The Store is open 7:00 AM to 7:00 PM Monday through Friday, 8:00 AM to 6:00 PM on Saturday and 10:00 AM to 6:00 PM on Sunday. (hours effective starting 7/16/2012) Closed on Thanksgiving, Christmas Day and New Year's Day Christmas Eve: 7:00 am - 2:00 pm New Year's Eve: 7:00 am - 2:00 pm
For additional information on the features and services available at Riverwalk Plaza's Sherwin-Williams, go to the Sherwin-Williams Web page.