Riverwalk Halloween Family Night - Thursday, October 24th, 2019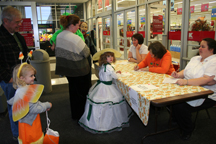 The Riverwalk Halloween Family Night has become a very popular fall event for the area. This event began approximately 15 years ago as an idea for a onetime event to celebrate the holiday and attract some additional shoppers to the Plaza. That very first year attracted some 300 to 400 children. It is held every year on the Thursday before Halloween from 6:00 PM to 8:00 PM.
Please check back for details on the 2019 event.




Plaza personnel also provides hayrides for kids and adults alike. In recent years, we have provided hayrides for as many as 600 people in a single evening. We advertise the event as a safe, well-lit atmosphere for the kids to test drive their new Halloween Costumes prior to the real night! Why spend all that time and/or money on a Halloween Costume for just one night?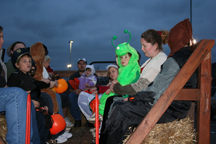 It is just another example of how Riverwalk Plaza is not just a shopping destination. We strive to be a focal point of family oriented events for the whole community! Great activities, great scenery, great dining, and great shopping!