Welcome to Wellsville NY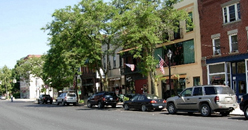 Nestled in the foothills of the Allegany Mountains, in the Genesee River Valley, Wellsville has much natural beauty. Forested hillsides are interspersed with picturesque farms. From North Hill, Norton Summit, Niles Hill, Alma Hill and other peaks, it is possible to see sweeping vistas of the surrounding countryside.
Entering Wellsville from the north, a visitor sees stately homes, many of them built during the areas oil boom in the early 20th century, and the Wellsville Country Club, with one of the finest 18-hole courses in Western New York. The Genesee River and Dyke Creek converge in the village; at their confluence is Island Park.
Throughout the community are several fine examples of architecture, including Historic Pink House, an outstanding example of Italianate Victorian, and the David A. Howe Public Library, a beautiful example of Georgian style.
Wellsville hosts many annual events such as The Great Wellsville Balloon Rally with as many as 40-50 balloons participating every year. Wellsville also hosts the Greater Wellsville Trout Derby with over 1600 contestants, some from as far away as Florida.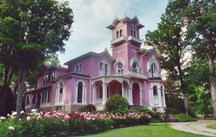 Wellsville is home to Dresser-Rand, Alstom Air Preheater, Jones Memorial Hospital, Otis Eastern Corp., and The L.C. Whitford Co., all of which are significant employers in the county.
Wellsville is also home to Alfred State College's School of Vocational Studies. The main Alfred State Campus has an enrollment of 4,000 students and Alfred University has an enrollment of 2,400 students located 12 miles east of Wellsville, this results in increased traffic to Wellsville stores and plazas.