Subway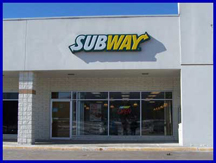 Riverwalk Plaza features a 1,650 square foot Subway Restaurant. The stores staff pride themselves in their personal service to their customers. The staff is always ready to assist the customers with finding just the right meal, morning, noon and night.
They also offer catering services with party platters, party subs, and cookie platters. Fast food that is fresh and healthy! Subway at Riverwalk Plaza is a great place to eat!
Subway is open from 7:00 AM to 9:00 PM, seven days a week. Closed on Thanksgiving Day
Subway is located at 131 Bolivar Road in the Riverwalk Plaza in Wellsville, NY. The store can be reached by phone at (585)593-5280.
For additional information on the features and services available at Riverwalk Plaza's Subway, go to the Subway Web page at www.subway.com