Riverwalk 16th Annual Fireman's & Emergency Services Expo, 5th Annual Chris Eldridge Memorial,TENTATIVELY scheduled for Saturday, September 9th, 2017 9:00 am to 1:00 pm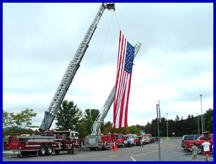 This event at Riverwalk Plaza in Wellsville began in 2002 as an Outdoor Show/Craft Show. An event that was intended for local sportsmen and craft enthusiasts. In 2003, a local radio personality and volunteer fireman suggested that we expand the event to showcase the county fire departments and their equipment in conjunction with the upcoming fire prevention week that is held in October every year. The rest is history.
Riverwalk Plaza's Emergency Services Expo has grown to include displays of all types of modern and antique fire apparatus as well as demonstrations of this equipment. The Expo has also grown to include ambulances, rescue equipment, auto extrication demonstrations, and a fly in and mock drill with Mercy Flight Air Ambulance each year. The County Swat Team also provides a display of their equipment. The New York State Police provided a K9 Unit that specializes in Narcotics Detection and Apprehension. The K9 Unit put on a very interesting demonstration for the public.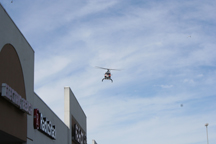 In addition to the great emergency vehicles and demonstrations for the public to check out, there is another fun activity scheduled. Subway held their annual sub eating contest for the first ten emergency services personnel with BIG appetites that signed up. This is always a fun event to watch as the hungry guys and gals compete to see who can eat a meatball sub without using their hands in the shortest period of time. Some winners have done it in less than 30 seconds! A Gift Certificate is awarded to the winner of the sub eating contest.