Riverwalk Christmas Family Night - Thursday, December 7th, 2017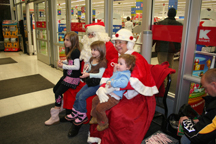 The Riverwalk Christmas Family Night has become a very popular Holiday event for the area, like the Halloween event. That very first year attracted some 300 to 400 children. It is held every year on the second Thursday of December from 6:00 PM to 8:00 PM.
The Event includes special Holiday Music performed by the Wellsville High School Select Ensemble as it has for the last several years. They performed inside Kmart near Little Caesars. Special Christmas Sales by most Plaza Stores and a visit to the Plaza from Mr. And Mrs. Santa Clause rounded out the special night's events. Wagon rides with Mr. & Mrs. Clause weather permitting.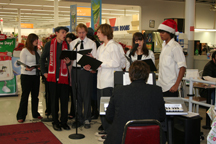 Riverwalk Property personnel normally provide hayrides for kids and adults alike. Providing hayrides for approximately 650 kids and their parents in a single evening. The unique concept to having both Mr. and Mrs. Santa Clause on board the hayride is that many young children who may be intimidated by Santa and his beard will readily go to Mrs. Santa Clause. We always urge Moms and Dads to have the kids bring their letters to Santa with them for personal delivery. Mr. and Mrs. Clause even have Christmas treats to hand out to the kids. And there is always time for photo opportunities, so we also urge the parents to bring their cameras. It is just another example of how Riverwalk Plaza is not just a shopping destination. We strive to be a focal point of family oriented events for the whole community! Great activities, great scenery, great dining, and great shopping!